We – ByteWarriors team competed at Imagine Cup 2009 in Slovenia. The finals were held in hotel Bernardin in Portorž on 25.5.2009, where
also Slovene NT Conference was going on. We presented the state of the art idea – I See You Know. More about our solution in presentation:  http://zitnik.si/temp/ByteWarriors_ISYK_Presentation.rar You can also get Virtual Machine with working application here: http://zitnik.si/temp/ByteWarriors_ISYK_VMS.rar.
We got 3rd place, not embarrasing. But do not forget us yet – see you next year, more powerful, more sufficient.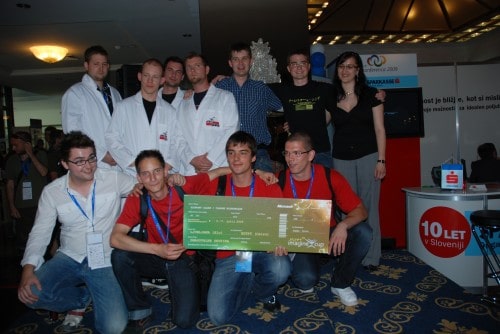 In the fron the winners VideoBlade – VideoBlade, on the left in white reSolve – reSolve and on the right ByteWarriors – I See You Know.
And two more pictures of us:
Party in the evening….