In June 2018 I went to Florida, Tampa and California, Palo Alto. In Tampa I was visiting the University of South Florida, where I was working together with prof. Glenn Smith on a joint research project. Related to the project I also visited Stanford University, Natural Language Processing group and Infolab, where a post-doc researcher Siva Reddy and Marinka Žitnik accepted me very warmly. During the stay in Palo Alto I had time for few getaways and also took a week off for a road trip. Below I quickly list places I visited, which can help others visiting the Bay area.
For travelling I did not need to have to use mobile data as there are many shops or Starbucks cafes where you can use a free wifi. I recommend to install Roadtrippers, where you can enter points of interest and plan the most efficient trip during the day. I used POIs from there as destinations in an offline navigation – HERE Maps works perfectly. Also, it is useful to have a Groupon application, where you can get some good deals – I got cheaper entrance fee for museums in San Diego, Warner Bros tickets and Computer history museum.
Palo Alto
In Palo Alto I rented a car, which is more convenient if you stay longer. Of course you can also use Uber or Lyft. I was staying at my sister's apartment and below I list places that are nice to visit in the area.
Stanford – At the Stanford University visitor center they offer free walking tours around the campus. After the tour I also recommend visiting the Hoover Tower and Stanford Dish.
Bol Park – Nice short walk and option to see a donkey (with his own mailbox :)), which was a model for the Shrek's animated donkey.
Cupertino – You should definitely visit Apple headquarters where you can get to look around their buildings in the visitor center's (shop) roof.
Mountain View – If you know someone at Google, he can show you around the Googleplex's offices, parks and invite you to theirs cafeteria.
Menlo Park – Similarly to Google, you can also see inside the Facebook's offices. I was not very impressed about the working places but Facebook has a huge and fascinating park on the roof of their buildings.
Shoreline Park – A scenic park to walk in the afternoon, have a coffee and see some birds. At the time I was there it was very windy and cold.
Computer History Museum – Very good museum to explore the development of computers science/engineering field.
San Francisco
If you have a full day and a half you should visit San Francisco. It is better to have a sunny weather, which I did not have. Visiting from Palo Alto I would recomment to take the 101 Fwy in one way and 380 Fwy into another.
Union Square – If you park in the center, go near this park and also explore the neighbourhood. Next to the square is also a big shopping center – Westfield San Francisco Center.
Painted Ladies – In my opinion nothing special, just few houses of the same type, painted in different colours.
Lombard street – Famous street, for which you need some minutes to drive through. Just important to drive through, otherwise nothing special.
Pier 39 – At this pier you can walk through many shops or have a good fish meal. If you prefer fast food I would recommend to walk a bit further to the Fisherman's Wharf, where you can get tasty fish-based fast foods.
Fisherman's Wharf
Golden Gate Bridge – I have not crossed the bridge as it was foggy but you can get a good view from the Golden Gate Park below the bridge.
Twin Peaks
Ford Funston
Sutro Baths
Alcatraz – For visiting the island prison you need around three hours altogether. The complex is not that big but at the island you first see the movie about the development of the island and then you can walk around the cells. The self-guided audio tour navigates you through the stories of the prison. You will see how clever were those three guys that managed to escape.
Santa Cruz and Monterey
From Palo Alto this trip will take a a whole day.
Roaring Camp Railroads – I thought this would be some nice park but is more a railroad for the children amusement.
Court of Mysteries – A half-built building, which was closed for renovation at the time of my visit.
The Light House
Santa Cruz Beach Boardwalk
Santa Cruz West Breakwater Light
Capitola Beach
Monterey Old Fisherman's Wharf
Pebble Beach
Carmel by the Sea – Very nice beach with cosy houses at the waterfront.
San Juan Bautista Mission – On the way back you can stop here to see a mission, which I could not explore as it was already dark when I was returning back to Palo Alto.
California Road Trip
For this trip I needed seven days – from 21st to 27th June 2018. The initial plan was also to visit the Sequoia Park but it would be too much, so I skipped it. If you have a day more, you should probably visit it. If you visit at least three national parks it is also cheaper for you to buy a full pass fee for all the California parks.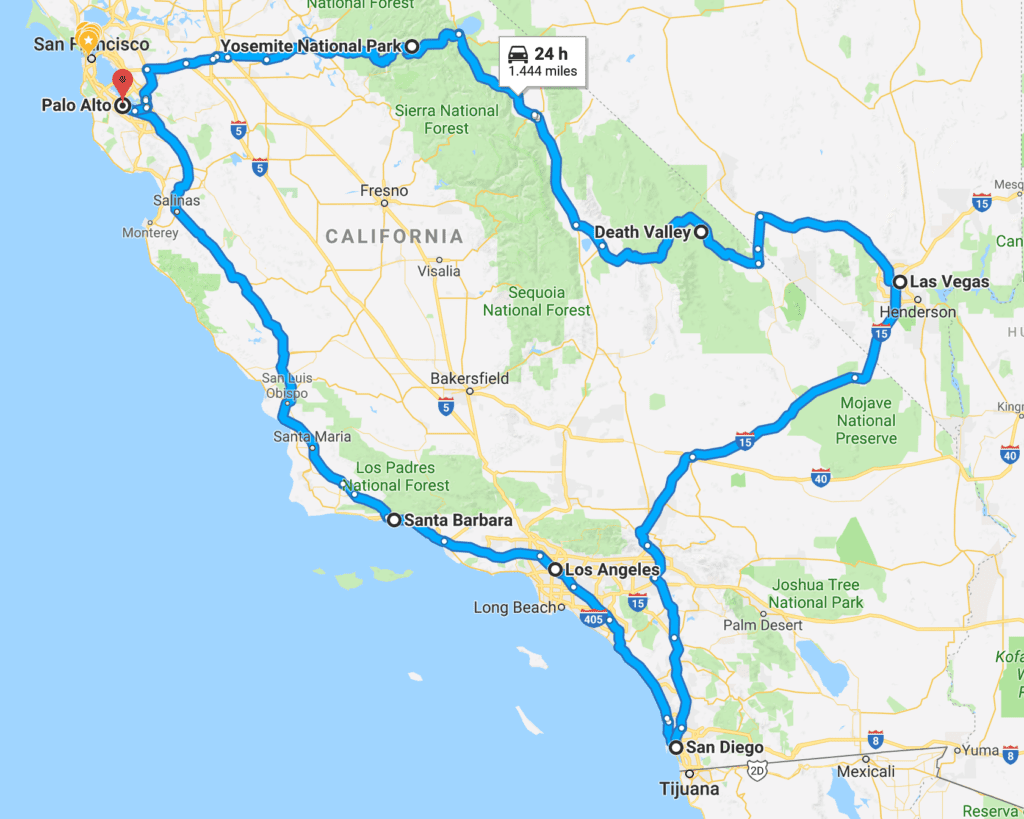 1. Santa Barbara
My first stop from Palo Alto was Santa Barbara, which really impressed me. I had a dinner at the Cold Spring Tavern, which is an old-fashioned tavern at the old road through the mountains (just 10 minutes from the city). On the way to Los Angeles I stopped in Thousand Oaks to find a place to sleep and the best price/performance in my opinion is to choose Motel 6. Comparing to other motels it has very nice and clean rooms without doors to neighbours. That is why I also mostly selected these motels further on the road.
The Courthouse – Old courhouse where you can see the machinery for the bells and the clock. On the roof you can also see the whole city.
Stearns Wharf – At the end of this wharf you can also try fishing (gear is available to rent). Just at the time I was there some guy caught so big fish he could not raise it to the wharf.
Mission Santa Barbara – In front of the mission is a small park where you can take a rest and lie down on the grass.
2. Los Angeles
Universal Studios Hollywood – First place I visited and after a walk in the Universal city I found out that tickets to enter the Studio's tour cost around 130 USD, which it seemed too expensive for me and that is why I did not enter. At the Warner Bros they probably show similar stuff, maybe just a bit less but in my opinion enough to get a rough idea of their work.
Warner Bros Studios – The tour takes you about three hours and you see The Big Bang Theory setup, buildings and how are they used for shooting, small "safari" used for shooting in the woods, … It is also nice to see different costumes, Batman vehicles that are all driveable (but not for you as a visitor :() and a repository of different stuff from all the movies that producents use and also general public can lend.
Griffith Observatory – I recommend to park a car under the observatory because the walk is not that long and after sitting the most of the time it is also healthy. From the top you can see the Hollywood sign, telescope and a good view of the city.
Hollywood Walk of Fame – I expected much more from this street. From the shopping center you can also see the Hollywood sign. There is also a Museum of Failure there where you can see some interesting things.
Beverly Hills – I drove through Beverly Hills when there was dark already. It is nothing special but you can see that wealthier people live in the area.
I slept in Motel 6 – South El Monte in Los Angeles.
Citadel Outlet Shopping – Shopping here took me about 4 hours. Maybe also due to the fact that my wife was travelling with me :).
Long Beach – On the way to San Diego I stopped by at the Long Beach – typical Baywatch-like beach. Then I continued to San Diego.
3. San Diego
Black's Beach – This was my first stop, from where you can see the beach and cliffs.
Old Town State Historic Park – If you are visiting San Diego, you should not miss the historic park. Here they have a nice setup of old city – bank, candy shop, restaurants, … Every building is also a small museum or shop and people are dressed in an old way. You can probably see more Wild west oriented city in Pioneertown which was also a setup for some western movies but I decided to skip it because of this park.
In the north I was buying groceries in Safeway but in the south area they have Vons. Probably one company took over another one as shops look the same. In these shops I especially liked self-service food that you can take and eat there. As there was still a lot to see in San Diego I slept at Motel 6 – Chula Vista.
USS Midway Museum – An incredible military vessel for which you will need at least three to four hours to see everything.
Maritime Museum – In the same street you also have some other ships and submarines to see. Also very exciting, especially old wooden ships that still sail. If you are lucky, you can also book a trip for one of them.
Mission Bay Beach – Before leaving San Diego I went to swim to the sea. In this area there is a small bay with warmer water and a lot of people having picnics and enjoying afternoons. The water temperature in June was about 21 degrees.
On the way to Las Vegas I slept at Motel 6 – Barstow.
4. Las Vegas
Outlet Shopping – About 60km before the city there is an outlet center where you can find some clothing to buy.
Welcome to Fabulous Las Vegas Sign – The most important thing (and probably interesting :)) is to take a selfie in front of the Las Vegas sign that you can see in movies.
The Strip – After the sign you should park somewhere at the Strip street, which is the main street. There you can get an impression of a party city – hotels, bars and casinos open to everyone. I wanted to see The Auto Collections which is sadly not there anymore.
On the way to the Death Valley I slept in Best Western Pahrump Oasis.
5. Death Valley
As there were warnings about the temperatures in Death Valley I started my trip there in the morning. But until 2pm the max. was 44 degrees, which is two degrees less comparing to Las Vegas.
Zabriskie Point – This should be your first point to take some scenic photos if you are travelling from the east.
Furnace Creek Visitor Center – In the center I recommend to see a movie about the valley and talk to the rangers that can help you what to see and visit. Initially I had a plan to visit also some other points but then I decided not to.
Devil's Golf Course – Seems like an agriculture field with salt on top of it.
Badwater Basin – The lowest place in US with 85.8m below the sea level.
Artistic Drive and Pallete – Some colorful rocks that changed its colour due to the oxidation.
Mesquite Flat Sand Dunes
Father Crowley Vista Point – You need to walk around 10 minutes to get a view over a large part of the valley. The most interesting things of all was a fly-over of F-18 fighter. At first I did not know what is happening as the sound was like I was in the middle of a huge storm. Then I saw an F-18 approaching me very low (like 20m above me) and I also saw a pilot inside. The fighter then turned back and went inside the canyon, flying on the side. This "show" is something you must see – if you google it, you can find out they "train" here regularly.
On the way to the Yosemite Park I slept in Motel 6 – Mammoth Lakes. At the time I was there a fire was happening few miles away and there was some smoke in the air. The city seemed nice, oriented into winter sports – in the hills there you could ski in the middle of June. There are also three lakes in the area – a drive around them will take you a half hour and are worth visiting.
6. Yosemite Park
The Yosemite Park is very scenic and worth visiting.
Tioga Pass – Driving to the village you can already observe some great mountains, stop by lakes and walk around.

Half Dome
El Capitan
Yosemite Falls

Yosemite Village – In the village I propose to see a movie about the park, which repeats every half hour. There is also a museum and store.
On the way back to Palo Alto I stopped for a coffee in Merced, which is a small city but I saw quite a lot of homeless men there – I do not know why so much.
As my final remarks I would say that I have seen many things and the nicest places are Santa Barbara (IMHO the best city of all the above), San Diego and Yosemite Valley. I was a bit disappointed about San Francisco – maybe also because of the cloudy weather or too big expectations.